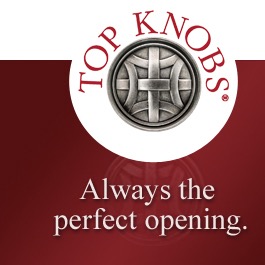 Cabinet Hardware selections need to be made as early in the process as possible and selections must be made before cabinets go into production.
Top Knobs is our current hardware source. We have several sample boards available in our showroom for you to look at. However, you can view additional hardware at www.topknobs.com. Just give us the hardware part number and we will take care of the counting and ordering for you!
The online pricing you see on topknobs.com includes the hardware and installation at our shop.
Customers can select hardware from a different source however; the hardware must be in our possession when cabinet production begins. We will charge an installation fee of $3.00 per pull if hardware is from a different source.
Customers who select routed pulls (tab pulls), please add an additional $10.00 per pull. If tab pulls are ordered from an outside source, pricing is subject to change.
Austin Wood Works does not install Cabinet Hardware in the field.