We offer a variety of cabinet styles. Cabinets may be either face-frame or frameless in construction.
Standard Face-Frame Cabinetry
Cabinets are constructed using face-frames which are applied to the front of the cabinet box. Traditional overlay doors sit directly on the front frame, allowing a partial view of the frame when the doors are closed.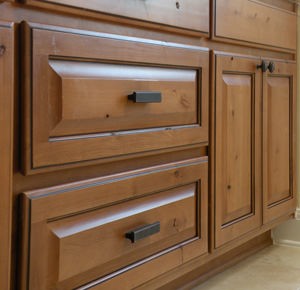 "Legacy" Face-Frame Cabinetry
This is our own adaptation to the standard face- frame cabinet. The difference is a tighter reveal between doors and drawers to create a "frameless look" on a face frame cabinet.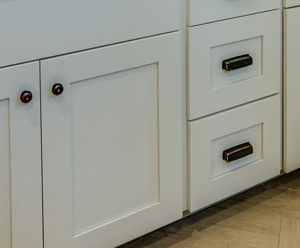 Full-Access (Frameless) Cabinetry
Full-Access cabinets utilize the cabinets side, top, and bottom panels to serve same functions as do face-frames in traditional cabinets. In general, frameless cabinets provide better utilization of space than face-frame cabinets. Full overlay cabinet doors fit closely so that they obscure the cabinet box when closed. This is our most popular cabinet style.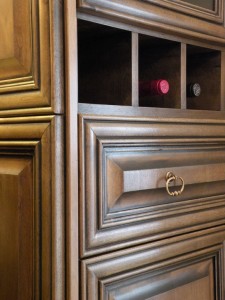 Standard 3/16" reveals (+/- 1/16") between doors and drawers (1/8" available)1/8" reveals are standard on smooth slab doors/drawers
Flush Inset cabinetry
A third option for face-frame cabinets is to inset doors into, and flush with, the face frame. An inset-mounted cabinet door is fitted to the frame in the same way as a typical room door is fitted into a doorway; such doors fit into a frame when closed. Inset doors require more precise alignment and fit of each door. Our flush inset frame openings are offered with a straight edge profile or with a beaded
or "dog bone" profile.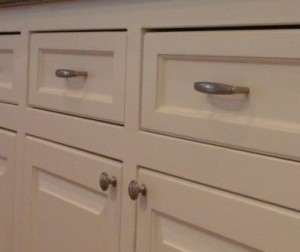 Flush Inset w/ Straight Edge Profile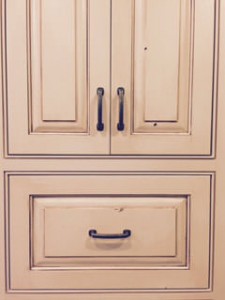 Flush Inset w/"Dog Bone" Edge Profile